| | |
| --- | --- |
| | The village of Cala d'Or in Majorca |
General presentation
Cala d'Or

is a small tourist town on the southeast coast of the island of Majorca and is part of the municipality of

Santanyí

in the county of

Migjorn

. The station has experienced strong growth since the 1930s and is now the most populous county seat of the county, with more than 3,500 permanent residents. Its economy is based entirely on tourism, with a highly developed tourist infrastructure made of quality hotels, restaurants, bars, discos, beaches and marinas…
Etymology and toponymy
Historically the area where

Cala d'Or

is named

Ses Puntetes

(Les Petites Pointes), which designated all the coves of

Cala Llonga

,

Cala

Gran

and

Cala

Petita

. When, in 1932, the architect

Josep Costa Ferrer

decided to create a marina in

Cala Llonga

, he named the resort

Cala d'Hort

, because this place reminded him of a creek of the 'island of Ibiza where he was born,

Cala d'Hort

(the creek garden) near

Sant Josep de sa Talaia

, on the south-west coast of Ibiza, he also built the station in the traditional style of Ibiza houses. Later the name of

Cala d'Hort

was transformed into a more commercial name,

Cala d'Or

.

Cala d'Or is called Cala de Oro in Castilian Spanish.
Cala d'Or

is located on the east coast of the municipality of

Santanyí

in the southeastern tip of the island of Majorca. The chief town of the town is inland, 14 km from

Cala d'Or

. The resort of

Cala d'Or

has a fairly flat land, with an average altitude of 27 m.

Further north along the coast there are other resorts such as Cales de Mallorca, 21 km, Porto Colom, 15 km, both part of the municipality of Felanitx. South of Cala d'Or are wearing Portopetro, 4 km, and the Natural Park Mondragó and stations Cala Figuera, 19 km, and Cala Santanyi, 18 km.

Majorca's capital, Palma, is distant 65 km away and takes a little over an hour drive to get to Palma, Son Sant Joan International Airport.

The marina of Cala d'Or, Cala Llongua, is the geographical location: 39° 22' 27" N, 3° 13' 52" E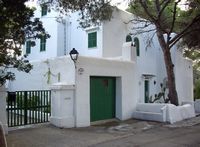 Cala d'Or

was one of the first resorts on the east coast of

Mallorca

and has a highly developed tourist facilities, it was designed, at the beginning of the 1930s by the architect

Josep Costa

, who wanted to give him a ibizien character with low-rise houses, with cubic shapes, flat roofs, with whitewashed and painted green walls windows.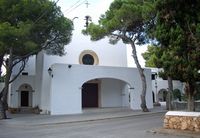 This original Cala d'Or has retained a warm character, and no meeting tour hotels hideous. In the center, pedestrian streets like Avenue of Belgium (Avinguda de Bèlgica) and St. Andreu Roig, bring a casual entertainment, with many shops and restaurants. However, the massive urbanization has invaded the coast for several kilometers and left only very few natural landscapes.
The parish church of the station, St. Mary of the Sea (Església de Santa Maria del Mar), was also built in the style of Ibiza, on land given by the architect "Pep" Costa in 1956 near Plaça de Sa Figuera, the first stone was blessed in 1957 and the church was consecrated in 1973.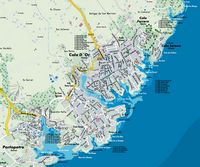 The resort - in the broadest sense - has three parts:

Cala Ferrera

, northern part of the municipality of

Felanitx

Cala d'Or

itself, center,

Cala Egos

and the south.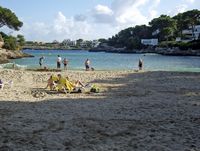 The resort has several white sandy beaches, usually located at the bottom of narrow creeks and protected from winds by rocky headlands. These beaches are small in width between 20 m and 60 m. From north to south, are the coves of Cala Serena (Felanitx), Cala Ferrera (Felanitx), Cala Esmeralda, Cala Gran, Caló de Ses Dones, Cala d'Or Cala Petita, Cala Llonga (marina), Cala des Pou, Cala d'es Fortí or Cala Galera, Caló de Ses Egües (Caló de ses Egos) and Cala des Llamp.
One sea inlet is closed by the caps of Racó de Sa Creu, north, and Punta Citerea the south leads to three coves of Cala Gran, Cala d'Or and Cala Llonga. On Punta Citerea is a fort, Es Fortí. Cala Gran de Cala d'Or is the main beach and the largest.
Cala Gran

of

Cala d'Or
Cala Gran

is flanked by low rocky headlands where hidden among the pines a few opulent villas. Creek ends with a small beach 60 m wide. Its depth was artificially increased by the construction, in the posterior part of terraces made of sand reported.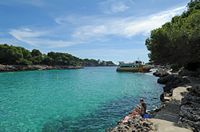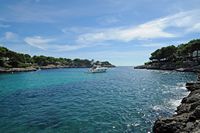 Cala Llonga

de

Cala d'Or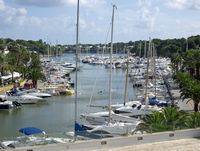 Cala Llonga

is the deepest coves of

Cala d'Or

and is sheltered from the wind unless the wind is (

Llevant

). It is in the

Cala Llonga

that was built marine

Cala d'Or

in 1969. The marina also named

Porto Cari

, can accommodate more than 500 boats under 20 meters. There is a large number of shops, restaurants and bars on the

Avinguda de Cala Llonga

along the creek. In contrast,

Cala Llonga

has no beach, but you can easily walk to the beach of

Cala Gran

.
The Small Fort (

Es Fortí

)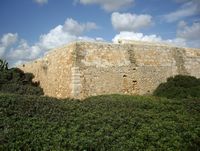 The fort,

Es Fortí

is the only monument in

Cala d'Or

, there is the entrance to

Cala Llonga

. This fort was built in 1730 during the War of Spanish Succession to protect the bay where now

Cala d'Or

. After being severely damaged by an earthquake, it was rebuilt in the late eighteenth century, in 1793.

Es Fortí is a strong almost square, 26 m side.
Bus Lines Serving

Cala d'Or

Weather forecast
Line L501:

Cala d'Or

to

Palma

Calonge, Cala Ferrera, Cala d'Or, Cala Egos, Porto Petro, S'Alqueria Blanca, Santanyí, Campos, Llucmajor, Polígon Son Noguera, S'Arenal Aqualand, S'Arenal, Palma

Information on line 501: www.tib.org

Line L507: Cala d'Or to Cala Mondragó

Information on line 507: www.tib.org

The

Port

Petit

Restaurant
Located near the marina,

Port Petit

restaurant is a fish restaurant quality, but quite expensive. The restaurant is run by a French-Majorcan which also has its own vineyards.

Menus 30 to 60 €.

Address: Avinguda de Cala Llonga - 07660 Cala d'Or

Phone: 00 34 971 643 039

Site on the Web: www.portpetit.com

Closed Tuesdays at noon in season.