Cascades of Ouzoud
The cascades of Ouzoud are located at 36 km west of the town of Azilal. They count among the most beautiful sites of Morocco and the most visited area.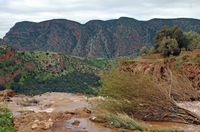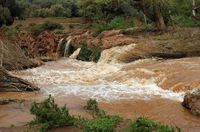 The multiples small waterways of the Ouzoud wadi (there are 25 of them on the whole) spring top in range and by projections.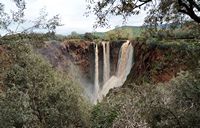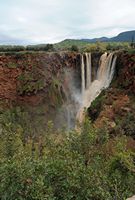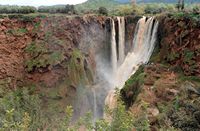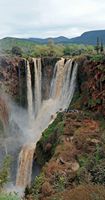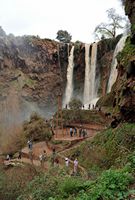 the green valley of the Ouzoud wadi shelters mills and orchards.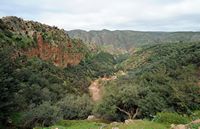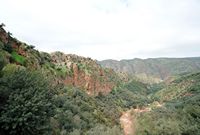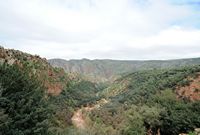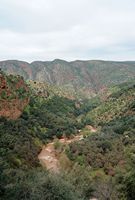 Berber macaques
The Berber macaques (

Macaca sylvanus

), or nest eggs, of the cascades of Ouzoud are an endangered species, now protected: only 80 monkeys, of almost 70 cm, live on two banks of the cascades, especially downwards. Noisy and jokers, but very apprehensive, they prefer to howl and bawl by strident singing exercises or to gesticulate savagely against the tourists rather than to approach some. Difficult to see, they move most of the time on the ground, close to the olive grove and only climb with the trees to play between them (what constitutes a considerable share of their timetable).

Most of the time, the monkeys leave their den with the sunrise to be made gild on the branches of the trees, close to the wadi, before beginning one (long) nap during the too hot hours of the day. The twilight is the moment when they seem to break out: one can hear their concert of strident cries almost each evening before fallen the night.

It is on opposite bank that the nest eggs make their greater offenses: to pinch olives and to devastate the cultures. The nest eggs however have a capacity of adaptation to the landscape and the extraordinary environment: if they can be satisfied with roots or earthworms for their subsistence, they are also particularly attentive with the reliefs of lamb barbecue, sheep or Coke given up by the tourists.