View-point of the "

Véu da Noiva

"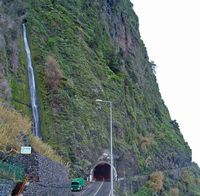 Three kilometers before the village of Seixal, the road crosses a long tunnel above which fall an abundant cascade. At the exit, a view-point offers a beautiful point of view on the village of Seixal.

One gave this name of "wedding veil" to this view-point because of the proximity of an impressive cascade whose water falling from very high forms a veil on the slope of the mountain, making think of the ornament of a bride. One can admire best this splendid manifestation of nature starting from the old road of São Vicente in Seixal.
Chão da Ribeira
To the exit of Seixal, a small road leads towards the south to the valley of

Chão da Ribeira

, located within a large valley dominating the parish of Seixal; the valley is surrounded by very rich varieties of plants and shrubs belonging to the forest of laurisylve. The bed of the river, occupied by agricultural land and toolsheds, presents a typically rural decoration; it is "Switzerland of Madeira" where the inhabitants of the island like to go in family the weekend.
Ribeira da Janela
With the mouth of

da Janela will ribeira

, draw up three small islands. Largest is bored of a kind of window (

janela

), from where the name of the river. While moving away from the bridge, one distinguishes the strange configuration from this rock.