Igreja de São Vicente
The church Saint Vincent dates from the

16th

century. Inside, very beautiful mural decorations in azulejos and gilded furnace bridges attest width of the baroquisation of the Gothic church.

January 22nd, one celebrates with a lot of music, of dances and processions the patron saint, São Vicente,
Capelinha do Calhau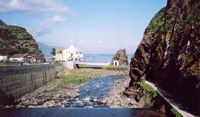 Close to the shore, at the place where the river is thrown in the sea, this vault was dug in a rock vis-a-vis the unchained sea. At at the beginning of August, one goes there in pilgrimage and the procession gives place to a popular holiday during which one blesses the houses to preserve natural disasters.
Capela de Nossa Senhora de Fátima
In height, on a hill dominating São Vicente, draws up a strange church - makes of it a tower of the clock without clock - surmounting a small vault dedicated to Our Lady de Fatima. This isolated place is an important place of pilgrimage and one can see it with kilometers with the round.
Grutas de São Vicente
The caves of São Vicente offer a captivating voyage to the center of the Earth, along a course of 700 m in the galleries of lava, basalt and iron, formed by the explosion of the volcano of Paúl da Serra which occurred 400,000 years ago.

The center of the Vulcanian theory (Central do Vulcanismo) explains the geological formation of Madeira.

These caves of lava are located at 800 m in the south-east of the town of São Vicente.