The Rock

Nublo

(

Roque Nublo

)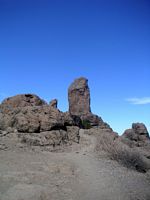 The symbol of the island of Gran Canaria is the

Roque Nublo

, a needle of 1 813 meters in height, of curious shape of which towers over the landscape. This is the last memory of a crater eroded away. This rock formation located in the center of the island has always inspired the fantasy of men; the first inhabitants of the Canary vowed worship him. When fog scraps cover the top, "the cliff cloud" has a mystical dimension. In the light of dawn, by cons, it is very majestic.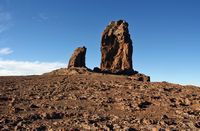 Hikers will enjoy the climb from the north because it is very beautiful in terms of scenery: Check to Tejeda and crossing the green Barranco to La Culata. From there, we cross beautiful pine forests to reach the cliff. During the trek, we never lose sight of the Roque Nublo and its little neighbor, Roque El Fraile (the monk). The high plateau down the road offers a magnificent view over the island and on Tenerife with the Teide, the highest mountain in Spain.
Cross

Tejeda

(

La Cruz de Tejeda

)
La

Cruz de Tejeda

(Cross of

Tejeda

) is located at 1494 m and is the meeting point of all the roads from the coast.

Many hiking trails (from 2 to 5 hours), the caminos reyales, start from this point.

The most beautiful forest of Gran Canaria, the Pinar de Tamadaba, is located 8 kilometers west of that point.