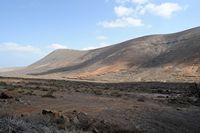 The Protected Landscape

Vallebrón

is a landscape characterized by a mountainous ridge, elongated from west to east, flanked by two large "U" shaped valleys, the

Valle Largo

and

Valle Chico

.

The most west summit of the ridge is the Mountain Morph (Montaña de la Muda), 689 meters high; to the east is the Majada del Caballo (553 m). West of the Protected Landscape Vallebrón is the Montaña Quemada and the Montaña de Tindaya.

The Protected Landscape Vallebrón represents an area of 1 680 hectares, divided between the municipalities of La Oliva and Puerto del Rosario. It houses interesting endemic plants: the tree launée (Launaea arborescens) (aulaga), real soda (Suaeda vera) (mato moro), the tangled wolfberry (Lycium intricatum) (espino), spurge of King Juba (Euphorbia regis-jubae) (tabaiba salvaje), the balsamiferous spurge (Euphorbia balsamifera) (tabaiba dulce), racquet cactus (Opuntia) (tunera), maritime squill (Drimia maritima) (cebolla almorrana), the icy ficoïde (Mesembryanthemum crystallinum) (barrilla), the nodal ficoïde to flower (Mesembryanthemum nodiflorum) (cosco) and wild asparagus (Asparagus nesiotes spp. purpuriensis) (esparraguera majorera).

Furthermore it was found in the Montaña de la Muda a necropolis from the time of Guanche including very strange graves.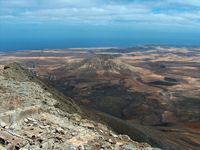 On the Montaña de la Muda is a belvedere (Mirador de la Montaña de la Muda) from where you can admire Tindaya, El Cotillo, Lajares and part of the town of La Oliva. Since the FV-10 road, which connects La Oliva in Puerto del Rosario, take a small road on the left in the hamlet of La Matilla and up to the lookout. There is a car park, from where a path leads to a viewpoint with an explanatory panel (text in Spanish and English). From there, it dominates much of the northwest region of the island of Fuerteventura, but above all there is a magnificent view of the mountain of Tindaya. If one comes shortly after sunrise, the reddish rocks of Tindaya is particularly spectacular.
The Chapel of St. John the Baptist,

the eighteenth

century, is located in

La Majada

, on the slopes of the

Morro de La Majada

. It was formerly dedicated to Our Lady of Grace (

Nuestra Señora de Gracia

). It is a chapel with a single nave, covered with a gable roof. The two doors to the west and south, are surmounted by a lintel.