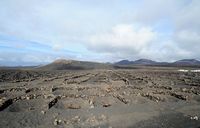 Uga

is located about 5 km east of

Yaiza

on the LZ-2 road, at the crossroads of the LZ-2 road and the LZ-30 highway.
It is the first village of the wine road that passes through the vineyards of La Geria from Uga to Masdache. From a small hill near the village there is a beautiful view of Uga which appears as a small oasis in a desert of volcanic slag.
Shortly before Uga is the starting point for short walks on camel that reveal some of the Volcanoes Park, to the Montañas del Fuego (in the late afternoon of 16 h h 30-17).