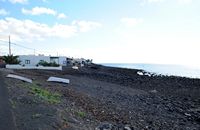 The village of

Playa Quemada

provides access to three beaches: the beach of

Playa Quemada

, strictly speaking, the

Playa de la Arena

and

Playa del Pozo

; these three beaches enjoying the shelter of the mountains of

Los Ajaches

, which guarantees a calm sea for swimming, except the rare days when the south wind blows.

La Playa Quemada is a beach of pebbles and black volcanic gravel rather unappealing for swimming, but it is bordered by two waterfront restaurants with very pleasant terraces.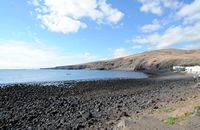 To the west, beyond a rocky promontory, is the Playa de la Arena (Sand Beach) on the black volcanic sand (lapilli), much finer, carted by the Barranco de la Corona; at low tide, one can easily walk to the Playa de la Arena from Playa Quemada; when the tide is too high, you have to cross the headland by a path where one crosses some goats of the fromagerie Rubicón village of Femés, grazing on the hillsides; it takes 15 minutes. Due to its location a little away, the Playa de la Arena is mostly frequented by people of Lanzarote and nudists. It is rare for swimmers there are more than a dozen.
Further west still - beyond another lava flow - is the Playa del Pozo (Well's Beach), at the mouth of the Barranco de la Higuera coming down from the mountain Morro de la Loma del Pozo. This is a black beach and fine pozzolan as little crowded than the Playa de la Arena; However, two hundred meters from the seafront there are farms where are bred tuna, sea bream and other fish, and it seems that the remains of the food given to the fish and droppings of these fish pollute the surroundings. From the village it takes 30 to 40 minutes to reach the Playa del Pozo, located about 3 km, along a path that winds through the hills.