Natural Monument Mountain of

Cardón

(

Monumento Natural Montaña del Cardón

)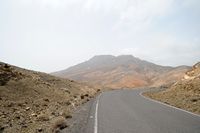 With 691 meters, the mountain of

Cardón

is the highest mountain in the municipality of

Pájara

, with steep terrain and carved by erosion. The aborigines of the island the mountain named Tacojayra.

It is possible to climb to the top of the Cardón taking a path that goes right onto the road FV-618, just before reaching the village, near abandoned greenhouses. This path leads first to the chapel of Our Lady of Tanquito (Nuestra Señora del Tanquito), where a pilgrimage in honor of the Virgen del Tanquito held annually the first week of June. It is a popular pilgrimage where an effigy of the Virgin is carried on their backs and placed in a cave; follows a popular festival and a grilled meat meal. After the cave, an unmarked trail then climbs to the top of Cardón.

Along the way you can see on the slopes of the mountain, a bush endemic to Fuerteventura and Lanzarote, named locally jorjado (Asteriscus intermedius), quite similar to jorado (Asteriscus sericeus).

The end of the climb is quite difficult, but the top of Cardón offers a beautiful view the southwest of Fuerteventura, including the Natural Monument Coralles de Las Hermosas, on the isthmus of La Pared and the almost island Jandía.
The mountain of

La Tablada
The mountain of

La Tablada

is the second highest mountain in

Pájara

, with 619 meters.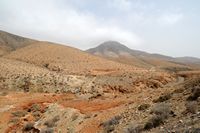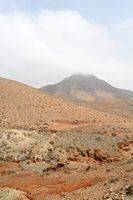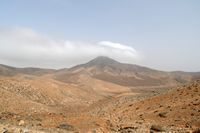 The hamlet of

Chilegua

(

Aldea de Chilegua

)
The hamlet of

Chilegua

is now uninhabited.