Igreja de São El Salvador
The church Saint Saver is typical of Madeira, with its white rough coat and its apparatus of blocks of lava. Built in 1533, it would be the oldest church of the island.

Its bell-tower is capped with a pyramidal roof and a balustrade of cross of Christ borders the top of the apse.

The interior, with three naves, is covered of a painted ceiling. In the central nave, with the ceiling painted in cradle, to notice the tomb of Spinola. In the chorus, whose vault is supported by twisted columns, is the metal tombstone of João de Freitas, which made build the church, the Gothic pulpit and of paintings of the Rebirth.

To notice the stalls of the collateral right, and the pretty vault manuéline on the left.
Paço do Concelho
On the side opposite of the principal place, the frontage of the old Palace of the Council (

16th

century) is bored of two splendid windows manuélines

15th

and

16th

centuries, and of a Gothic gate. In withdrawal, the public garden ends almost in the strike of rollers on which one hoists the small fishing boats.

The Palace of Justice, a few meters from there, survived since the same time, with its beautiful verandas and an impressive central staircase.
Municipal Câmara
East of village, the town hall, with the beautiful external staircase, is an old palace of the

17th

century which hides behind two splendid trees in flower.
Aeroporto de Santa Catarina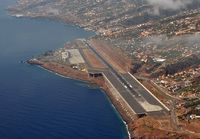 The airport was built in 1966, but since the lengthening of the track of the airport in 2000, the large-carriers can finally land in Madeira, and the passengers do not have to undergo any more abrupt brakings due to the lack length of the track. The arrival on the island does not remain less impressive about it since the planes land on an artificial platform, assembled on pile to 70 m above waves, wedged between sea and mountain.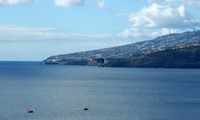 The road passes under the spectacular runway partly dug in the rock, partly built on a punt forms artificial constant by a forest of pillars.
Before its enlarging, cofinanced by the EU, the airport could accommodate only the planes of intermediate size taking into account the low length of its track (1 200 m only). The track is from now on enough long to accommodate a Jumbo Jet. The approach in the plane in high wind conditions remains however rather spectacular…