Capela de Nossa Senhora do Loreto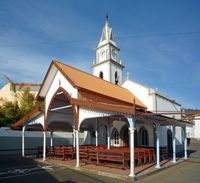 The vault of Our Lady de Loreto (

16th

century), to the pinnacles manuélins and the ceiling mudéjar, recalls the richness of the village to the

17th

century. To notice the surmounted side gate of a cross of Christ.

Of a view-point, beautiful sight on the extent of the terraces cultivated to cliff of Fajã do Mar.