The Aphrodite of Rhodes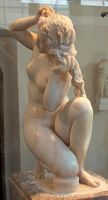 The masterpiece of the museum is undoubtedly Aphrodite of Rhodes, a small alabaster statue

of

the first century BC, depicting the goddess naked out of the bath, on one knee and raising its elegant long hair.
The statue of Dionysus
Statue of Dionysos, bearded Hellenistic work of the

second

century BC.
Kouros
The kouros, large statue of the

sixth

century BC depicting a naked headless discovered Camiros .
Aphrodite modest
Aphrodite modest

third

century BC.
The god Helios
We can also admire a marble head representing Helios, the sun god, dating from the

second

century BC.
Headstones
Tombstones in the fifth century BC necropolis of Camiros on which are depicted scenes of everyday life.