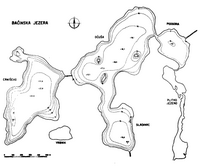 The Lakes Baćina are a set of six lakes located at 2 km of Ploče in the immediate future back-country of the port city. The lakes are located in a rock valley between Right Bank of the delta of the Neretva river, the sea and the southern end of the solid mass of Biokovo. The main roads m², from Split to Dubrovnik, pass along the west coasts and south of the lakes which are visible since the road.

The Lakes Baćina (Baćinska will jezera) owe their name at the village of Baćina located close to Ploče. They are seven picturesque lakes, named Oćuša, Crniševo, Podgora, Sladinac, Vrvnik, Šipak and Plitko, of which six are connected between them, forming a bluish green collar.

The basin occupied by the lakes has a surface - rather small - of 138 hectares. Their depth varies from 5 to 34 Mr. more the big lake is the lake Oćuša and deepest is the lake Crniševo (34 m).

In spite of their proximity with the sea and the permeable nature of the karstic area, it is, at the origin, of the fresh water lakes, whose abundant sources provide the population out of drinking water. However, the water of the lakes is partly brackish, because they were connected to the sea: at the beginning of the 20th century (1911-1912), the government Austro-Hungarian built a tunnel connecting the lake Sladinac to bay of Ploče in order to lower the level of the lakes to prevent the floods.

In addition the lakes are crypto-depressions, which means that the surface of the lakes is to 80 cm above sea level but that the bottom of the lakes is below sea level: the major part of the lake Crniševo - between -23 m and -35 m - can contain sea water 50%.

This lowering of the level of the lakes involved biological changes: the freshwater fishes abound there, but, since the boring of the tunnel, one finds there also mules jumper (Mugil saliens). The area is a true paradise for the amateurs of fishing.
The trade brought the former Greeks in the area of the Lakes Baćina, and, at the time of ancient Rome, the area was part of the province of Dalmatia. The town of Narona was then one of the greatest economic and cultural centers on the Adriatique coast.

On the territory of Sladinac the remainders of old walls and mosaics are belonging to the Roman villa of Praetoria. The remainders of an early Christian basilica of the 6th century were discovered there. A necropolis of steles, especially of the sarcophagi and flagstones, was discovered beside the ruins of the Saint-Andrew church.