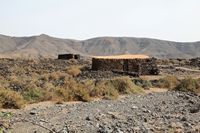 In the

Barranco de Pozo Negro

, in the territory of

Malpaís Grande

, is an interesting archaeological site: aboriginal Guanche settlement of

La Atalayita

. This primitive village of stone houses dating back to the period before the Norman Conquest; it was established by the ancient inhabitants of the island, known as the "

majos

" which is believed to be of Berber origin.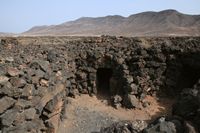 The village is made ​​up of nearly 115 small constructions in the shape of circular or semi-circular arches, built of volcanic stone Malpaís; most houses are half buried ("casas hondas"), with the floor of the house below the ground level, for better adaptation to climatic conditions (wind and drought). These ancient inhabitants were devoted mainly to raising goats, but it may also existed some agriculture based on the cultivation of oats, considering the high fertility of the soil, limited only by the lack of rain. The majos also harvested all kinds of shellfish and crustaceans that complemented their meal; near the village, is also a kind of filled shells tank shells of different species of mollusks. Archaeological excavations have also led to the discovery of many pre-European origin ceramic scraps.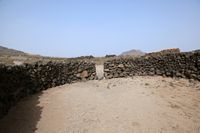 After the conquest, the local shepherds continued to use the site, adding stone pens for their animals.
The settlement of La Atalayita is on the right road that leads to Pozo Negro, right next to the promontory of La Atalayita that gave it its name, within 1.5 km from the coast; there is a wall with the name "Poblado de La Atalayita" at the entrance to a dirt road that leads to the hamlet.
Hours: Tuesday to Saturday, 10 am to 18 pm. Closed Sundays and Mondays.
The interpretation center, visitors can learn about the excavations that took place at the site and see objects that were discovered.