The Church of St. Anne (

Iglesia de Santa Ana

)
The Church of St. Anne was built in 1781 in order to become, in 1790, the parish church of the

Parroquia de Santa Ana

. Its massive façade and bell tower - in black basalt stones from volcanoes of the north of the island - in stark contrast with the whiteness of its walls.

Inside are a beautiful statue of Saint Anne and the Virgin Mary child, statues of St. Francis and St. Dominic, an altarpiece and polychrome wooden pulpit, and a table of the "Last Judgment."

St. Anne celebrations take place on July 26 at Casillas del Angel.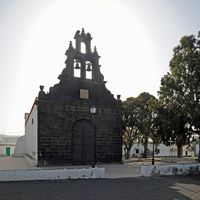 The handicraft workshop (

Taller de Artesania

)
One can discover local crafts at

Taller de Artesania

held by

doña Catalina Mendez

. In the studio working a loom on which are made blankets, bags and shawls. In one corner pile fiber fins that are used to make molds for cheese, brooms, baskets and hats. The craft workshop is located west of the village, just before the gas station.