| | |
| --- | --- |
| | Mouths of Kotor |
General information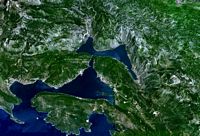 The Mouths of Kotor (

Boka Kotorska

), are a vast bay located on the Western coast of Montenegro, dependant on the Adriatic Sea.

Because they recall, by their notched forms, the fjords in Norway, the Mouths of Kotor are often called by the travel agencies "the southernmost fjord of Europe"; but, according to the most recent research, the bay of Kotor would be rather the canyon of a submerged river.

In July 2000, the Bay of Kotor were included in the list of twenty-five more beautiful bays of the world, the other bays in this list being mainly in the Scandinavian countries. The beauty of Bay of Kotor can be particularly admired from the top of the road which goes down since Cetinje until Kotor.
Etymology
The Mouth of Kotor (

Boka Kotorska

into Serb,

Бока Которска

into Serb Cyrillic, and, in Italian,

Bocca di Cattaro

/

Bocche di Cattaro

).

The bay is also called "Bay of the Saints" because as of many monasteries, often in ruins, that one meets there.
A road skirts the edge of water all around the Mouths of Kotor, but of the vats connect Lepetane to Kamenari.
The bay 350 m is broad and occupies a surface of 87 km ², and it is also the deepest bay of all Mediterranean. It is framed, on a hundred kilometers, by the last summits precipice and gullied of the dinaric Alps, the mountains of Lovcen and Orjen (1 894 m).

The bay is made up of four deep gulfs connected to each other by the deep ones and narrow channels:

This whole of deep basins, perfectly safe from the sea, makes of it the largest natural port of the Adriatic Sea and one of the best natural ports of Europe. For this reason the bay of Kotor was the object of many covetousnesses during centuries.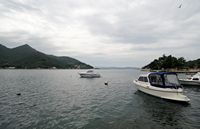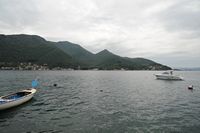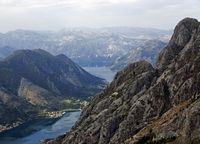 Economy
Historically, the economy of the Mouths of Kotor was directed around three axes: merchant and military navy (

Bokeljska mornarica

), the fishing and culture of olive, in the solid mass of Orjen which overhangs bay in north.

The mouths of Kotor constituted one of the principal Yugoslav military naval bases. The navy falls however in decrepitude and, since the independence of Montenegro, it is question of dissolving it completely. The arsenals are for the majority with the stop, but of the tunnels dug in the rock near the entry of the mouths, on southern bank, can always be observed. They were shelters of protections for the military ships.

Today, the main source of incomes of the Mouths of Kotor is tourism.