History
In 1928 French colonial power in fact a garrison town. On the military level it was used as a basis of aviation against the famous tribe of Has Attas which fought savagely against the troops of Henri de Bournazel, (the man with the red coat, killed in Morocco in 1933), until 1934 when the chief rebels Assou Oubasslam returned to the French to avoid the massacre of the populations cut off in the mountains.
Economy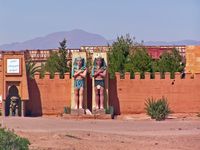 Today the town of Ouarzazate is in full rise on the plans tourist and cinematographic. It is in particular one of the Moroccan sites most snuffed by the realizers of cinema. Y were thus turned, partially or entirely: Hundred thousand dollars in the sun, Lawrence of Arabia, Kundun, Gladiator, Alexandre the Large one, Astérix & Obélix: Cléopâtre mission, the Mummy, Kingdom of Heaven, Babel, Banzaï, Prince of Persia: Sands of time etc
Ouarzazate has an international airport and is accessible by the road since Marrakech (4 hours in the bus, 3:30 in the taxi) via Tizi Tichka.