General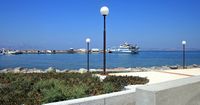 Mastihari is also a port for small ferries which go back and forth with the port Pothia on the island of Kalymnos, there, every day, in each direction, three starts well spaced, more or less stalled on times Olympic Airways at the airport of Kos, Kalymnos because has no airport. The crossing takes about 20 minutes.
Restaurants
Restaurant Kali Kardia
Kali Kardia

(the "Good Heart") is a large popular tavern, facing the port, sheltered from the wind.

Phone: 00 30 22420 59289

Menu from 10 € 12.

Kali Kardia offers a wide range of specialties: fresh fish and shellfish, but also meat grilled lamb.

Warm and good Greek music.