S'Illot

houses the ruins of a talayotic village located on the outskirts of the city, about 200 meters from the shore.

This is one of the most important talayotic culture and post-talayotic (850-123 BC) of the archaeological sites of the island of Majorca, both for its diversity and its monumental long and complex historical evolution, reflecting occupancy of more than 1000 years.

The oldest remains date back to the late Bronze Age (1100-850 to BC) on these old buildings were built buildings which we see the ruins today. This intense occupation of the site would have started around 850 BC and was completed in the late second century BC, when the Romans colonized the island of Majorca, in 123 BC. Under certain assumptions, the Romans would also landed in Cala Millor or Sa Coma, near S'Illot. The Talayotic constructions have however continued to be used until the Muslim conquest in the seventh century.

Between 1960 and 1970, the village talayotic S'Illot was excavated by archaeologists from the University of Marburg. The site was declared a National Interest in 1964.

The village consisted of different sets where community buildings (talayots) around which there were dwelling houses were built. The central part was a quadrangular talaiot surrounded by 35 houses. The village was protected by a long wall that originally completely surrounded the village, which is still visible. All these buildings were made of dry stones of various sizes, from very small to very large.

The two hundred villagers had mainly farming, but hunting and breeding of domestic animals such as pigs and sheep, were also very important for the survival of the community.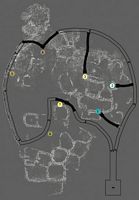 Visit the archaeological site can start from any point of the city, as it is a circular route, the site is documented by a series of observation platforms and diagrams:
1. Housing building bean shaped
2. Bean-shaped housing
3. Talaiot a central floor
4. Outside talaiot
5. Village wall
6. Talaiot inside and terraced houses
7. Sanctuaries or important buildings
The visitor center talayotic village S'Illot complete the site visit.