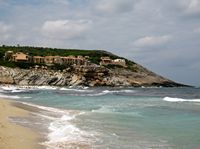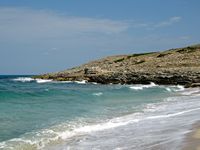 Cala Mesquida

is the family resort of Inhabitants of

Artà

or

Capdepera

, much less touristy than other stations in the northeast of the island like

Cala Millor

.

Cala Mesquida enjoys a natural setting: only the portion left Torrent Son Mesquida is buildable, right on the beach is the Cap des Freu (Cape Strait) between Cala Mesquida and Cala Moltó and Cala Agulla. The course is home to a large population of gulls and cormorants: This area was declared in 1991, Natural Area of Special Interest (Àrea Natural de Especial Interes, ANEI) by the parliament of the Balearic Islands.
The Beach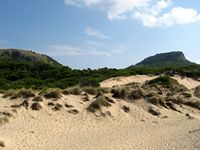 The beach of

Cala Mesquida

is a fairly open to the winds from the north and north-east bay, these winds have formed a dune system that extends quite far inland, they are covered with mastic, palmettos and pine, the most famous of these is the sand dunes dune of

Es Munt Gros

. Access to the dunes is prohibited, but a bridge can be observed.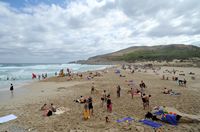 The winds also form strong enough waves, and it is for this reason that Cala Mesquida is one of the few beaches in Majorca where can surfing and windsurfing.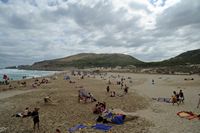 The beach of Cala Mesquida has a length of 300 meters and an average width of 130 meters.