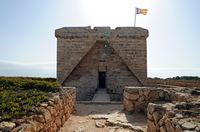 The tower of

N'Amer

, or Castle

N'Amer

is a watchtower and defense of the seventeenth century, located on the

Punta de n'Amer

about 700 m from the end of the point. It is known as "

Es Castell

".

The need to build a tower defense here had appeared 110 years ago, due to frequent attacks by Moorish pirates trying to steal supplies or valuables, or remove people to enslave. In 1585, the viceroy of Majorca, Lluís Vich, during a general inspection of the island, had requested the construction of a tower, but on July 20, 1586, the Municipal Council of Manacor judged unnecessary round despite frequent landings on this site. After another major attack in 1611, the Council of Manacor decided in 1617 to build a tower, but for cost reasons, it could not be done.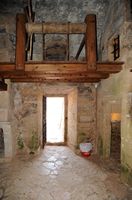 On 4 September 1688, the Moors captured the captain of Muro (Capità de Muro) and some fishermen, and for fear of the Moors, the peasants did not want to Son Servera cultivate the land near the coast. The Grand Council of Mallorca agreed to support the construction of a tower, the construction began in 1693 and was completed in 1696. The stone used was that of the ditch that surrounds the tower and careers around. Tower N'Amer was integrated into the network of watchtowers coast of Mallorca, between the towers of Porto Cristo and of Cap Roig. The tower was protected by a moat, and was reached by a drawbridge which one still sees the mechanism.
The mid-nineteenth century, with reduced risk of Moorish attacks after the capture of Algiers by the French, the tower was sold and became private property.
The Castell de n'Amer is open free to the public. It houses a small museum and serves gazebo overlooking the bay of Son Servera. Through the pine forest, can be reached from the Castell car parks that are located at 1100 m in the north to Cala Nau, and 1500 m to the south, Platja de Sa Coma. An annex building of the tower now houses a restaurant.
Summer hours (July and August): from 10:00 to 24:00.
Winter hours (September to June): from 10:00 to 18:00.
Entrance Fee: free.
Phone: 00 34 971 810 892