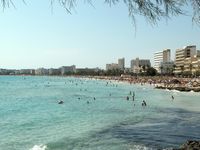 The beach of

Cala Millor

is a sandy beach with a length of 1750 m, an average width of 35 m and a low slope of 4%. Cleanliness allowed him to obtain, in 2001, awarded by the European Union Blue Flag.

The actual beach of Cala Millor is in reality a succession of four beaches belonging to the town of Son Servera (400 m) or the common Sant Llorenç (about 1350 m):
north, the

Arenal de Son Servera

, 400 m in length, which was built the first hotel in

Cala Millor

;

Platja de Sant Llorenç

;

Son Moro

;

Cala Nau

, 200 m long, which forms the southern end of the beach and abuts on the peninsula of

Punta de n'Amer

.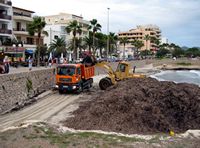 The beach of Cala Millor, on the open sea is a dangerous area for anchoring boats and swimming when the wind blows from the east. The beach is invaded by sea grass that must be removed regularly for the convenience of tourists, increasing erosion of sand and for this reason we must resort to artificial regeneration of the sand.
Behind the beach is a promenade built on ancient dunes.