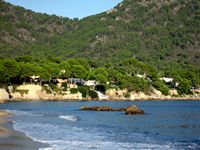 Costa dels Pins

(or

Costa de los Pinos

in Castilian Spanish) is a coastal town on the east coast of Majorca.

Costa dels Pins is part of the municipality of Son Servera in the county of Llevant, and only about 300 inhabitants.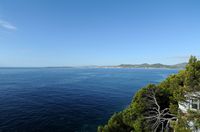 This is a privileged residential area consisting mainly of beautiful villas hidden among the pines. Many celebrities will have a house to spend the summer: eg actress Ana Obregón, the former race car driver Carlos Sainz and the director of the newspaper El Mundo, Pedro J. Ramirez and other famous lawyers and journalists. Some of these villas are also the subject of controversy, as illegally built in the coastal area.