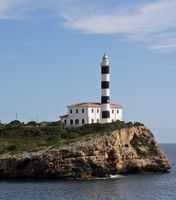 Portocolom

has one of the best natural harbors on the island of Majorca, and was long a fishing port, as evidenced by the building of the

Llotja

(the Lodge) was the auction of fishermen and colorful hangars housed the

llaüts

these boats typical Majorcan fishing at the north end of the platform you can see houses equally colorful fishermen.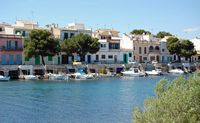 Until the late nineteenth century, the port prospered in Felanitx wine exports to the Spanish peninsula and to the port of Sète in the Languedoc French. In 1891, the implementation by France of a restrictive customs policy, in conjunction with the appearance of phylloxera ruined this activity, and the port came to his vocation of fishing port. Portocolom is still one of the most important fishing ports of the island, but the traffic of pleasure boats gaining importance. The marina is located south of the fishing port.
The port of Portocolom is nevertheless a haven of peace and tranquility, where it is nice to stop at a sidewalk cafe or restaurant, observing the movement of the boats entering and leaving the bay.
The Portocolom Bay is closed to the north-east of Punta de ses Crestes (Point of the Crests) where stands since 1863, the flagship of Portocolom, broad features blue and white stripes.