General presentation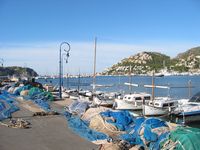 Port d'Andratx

lies at the bottom of a narrow bay whose entrance is blocked by a powerful dam, left the harbor extends the old fishing port of

Andratx

, on the right the marina.

Beyond the marina, tourist areas invaded the hills surrounding the bay, they concentrate hotels, restaurants and shops.
Etymology and toponymy
Puerto de Andratx

in Castilian Spanish.