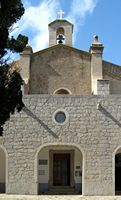 The Chapel of the Hermitage was opened May 10, 1818. The hermitage was inhabited by hermits throughout the nineteenth and twentieth centuries, but is uninhabited since 2010 because of the age of the monks. All 1 May pilgrimage goes to the hermitage.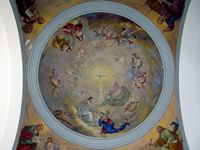 The chapel is the work of Joan Rosselló. It is a small building, on the main facade is a sundial, a small window and a rosette. Inside the nave, the dome is decorated with a fresco of the Coronation of the Virgin, the work of Francesc Parietti, the altar and the seven paintings depicting the life of Christ, are the work of Brother Manuel Bayeu who was a friend of painter Francisco de Goya. These paintings were given to the chapel by Cardinal Despuig, they came from the Capuchin monastery in Palma de Mallorca.
The effigy of "Christ in agony" (Crist en Agonia) is the object of great veneration by the inhabitants of Artà.
At the rear gardens of the Hermitage, several trails lead to an interesting point of view of the bay of Alcúdia.