Canyamel

is at the end of the small valley

Torrent de Canyamel

.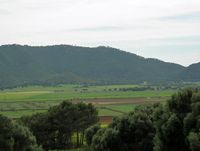 Valley Canyamel is framed on both sides by wooded hills of pines, tall 200 to 300 meters, which lead: southeast, towards the Cap des Pinar or Cap des Raix, and north-east towards the Cap Vermell, where the caves of Artà (Coves d'Artà).
Canyamel is 9 km south of Capdepera and 12 km from Cala Ratjada.