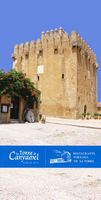 Address:

Torre Canyamel

Carretera Artà -Canyamel, Km 5

Free parking.

Hours: Tuesday to Saturday, 10:00 to 15:00 and from 17:00 to 20:00 and Sunday from 10:00 to 15:00, closed on Mondays.

Duration of the visit: 45 minutes.

Entry fee: adults € 3, free for children under 12 accompanied.

Phone: 00 34 971 841 134

Website: www.torredecanyamel.com

From the top of the tower, 23 meters high, it has a panoramic view of the valley and the coast of Canyamel, and as far as the Almudaina of Artà.

Temporary exhibitions are also held outside the tower.