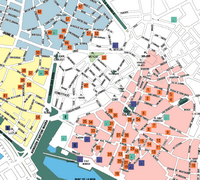 Palma

has more than sixty palaces of the aristocracy or the upper middle class houses in the lower part, as in the upper part of the old town. The architecture of these buildings are built around beautiful patios providing access to the upper floors, often in galleries. Through patios can browse the history of Palma, as the earliest patios appear in the thirteenth century. But it was in the fifteenth century that large families adopt the Italian taste. The splendor of the palaces flourished in the sixteenth and seventeenth centuries.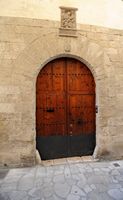 These elegant homes have stone facades, windows brightened Renaissance decoration. The order of the patio, originality Majorcan houses, has been set in the eighteenth century: Solid marble columns support large segmental arches, while a staircase leads to a high balcony. The stone railings or wrought iron dress set. In the nineteenth century, sumptuous summer villas are also emerging in the mountains north of Palma.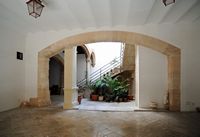 These patios give Palma a personality and charm.
In carrer de Sant Roc, you can find documents describing the homes of Palma.
Note: Can mean house, dwelling, Cal, home of…